Summer Daily Schedule
Glorious mornings full of Rhythm and Afternoon Rhythm in the Arts, Evenings dancing by lantern light with moon and stars, Improv theater every Saturday Night and Camp Fire and Songs on Sunday.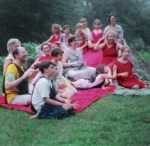 The summer program provides for daily meals, periods of rest and quiet, periods of togetherness, and the experience of Noyes Rhythm throughout. Our farmhouse bell signals times of togetherness such as classes and meals. Rising bell comes at 7:00am and guests enter the Farmhouse side door at the 7:30 breakfast bell.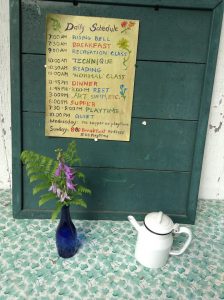 The class day begins for all participants at 9:00 am for the Recreation Class at the Pavalon followed by Technique Class at 10:00 am and Reading at 10:30 am. Classes are held every day except Sunday.
There is an official rest period after the Mid-day Meal (we call it Dinner) until 3:00 pm.
Some days there is an afternoon program which begins around 3:00pm and may meet in the Schoolhouse or Blackbird Music Studio. Monday through Friday at 7:00 pm and Sundays at 5:00 pm we have 'Playtime'. Playtime is an hour plus of free dancing by lantern light in the Pavalon and meadow to live, concert-quality piano music. Some Wednesdays we have Playtime with recorded music in the evening.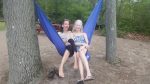 Saturday Night is a special Noyes tradition honoring the culmination of the week and time shared together in classes and community. As night begins to fall, the Pavalon is transformed into a magical, makeshift theater where we share our bursts of inspiration that bubble up during the week. Some may read a favorite poem or one they have written, sing a song or perform a skit based on something funny that occurred during the week. Often a movement piece grows out of the weeks' Rhythm classes or a masque is created, inspired from the Greek myths we read each day. Afternoon preparations and rehearsals for this great improvisational time are scheduled at mid-day dinner.
Meals at Noyes are a social time that is a healthy part of the shared experience. They serve as the occasion for many camp announcements. Noyes meals are home cooked and expertly prepared.
Quiet Hours
10:00 pm to 7:00 am is a designated quiet period. Late night tent gatherings are fine, as long as quiet is preserved. Rest hour is also a quiet time and begins after the noon meal until 3 pm.