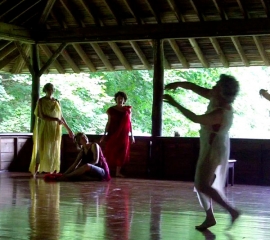 Mornings are devoted to Noyes Rhythm movement classes and readings.
Afternoons are for artistic expression, rest, time in nature, music making, other Noyes Rhythm experiences and camp explorations.
Evenings are an invitation to creative movement with beautiful live music.
Wholesome meals are served at the Farmhouse for breakfast, mid-day dinner and supper.
Wednesday afternoons are free of camp activities and a great time to hike or drive locally and enjoy the countryside, restaurants and entertainment. Saturday evening is our own performance night and Sunday supper is at the campfire.
A Day at Camp (Martha Mott-Gale)

A day at Camp, for me, has the perfect balance of structure and freedom and of stimulating community and peaceful solitude.

I wake in my tent to birdsong and the fresh smells of earth and the woods. I open the tent flaps to the sun, go down the steps of the platform and along a well worn path to the old farmhouse for breakfast with friends old and new.

The morning classes are down the hill in the Pavalon, open to the air, protected by a vaulted roof, with a smooth floor for stretching, rolling, dancing. I forget my body's limitations while the teacher and the music take us to another place. Sometimes we move as a group , sometimes we have our own experience. ….more