A SPECIAL SUMMER AT CAMP 2017 Find out about our Special Projects!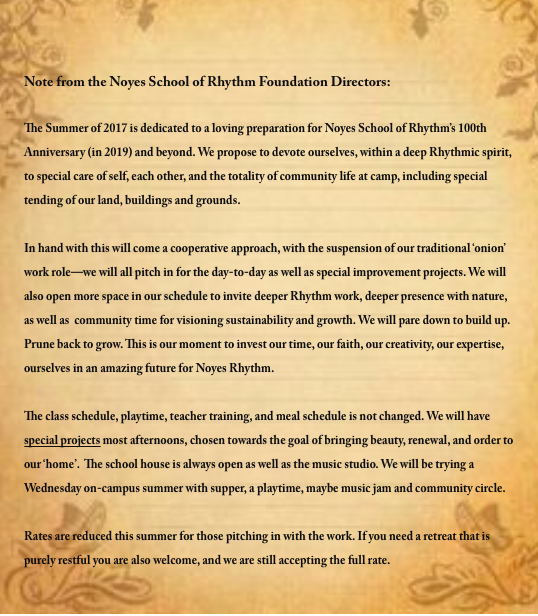 Where does Noyes Rhythm happen? The majority of our classes take place in the summer at Shepherd's Nine, our 100-acre retreat and school in Portland, Ct. Shepherd's Nine is an old New England farm property in the tranquil woods where women and men (in our co-ed week) gather to renew themselves through Noyes movement and dance.
The Noyes Rhythm core curriculum is complemented by special projects, weekly improvisational theatre, instrumental and vocal music, and plenty of quiet restorative time in nature.
A day at camp follows a regular rhythm of healthy activity, creative play, social nourishment, and quiet reflection. We eat together at the 18th century farmhouse, indoors and out, and live in comfortable platform tents or cabins.
We make art in the one-room schoolhouse, make music in a beautiful studio, walk and reflect on the property, swim or boat on Great Hill pond, and–most importantly–move and dance on a beautiful pavilion floor open to the fields and woods.