Nancy Nichols "Clio" is a Master teacher and, until recently, long-time Director of the Noyes School and Summer Program. She studied with many of the original Noyes group including with Catherine Stone as a young child. Nancy was BA degree cum laude Bryn Mawr College where she studied Soc. Psychology, an elementary school teacher at Shady Hill, Head of the Early Music Dep't Concord Academy, and director and musical arranger of the Calliope Consort. She is also a member of: Concord Madrigals, Lexington Choral Society, Newburyport Chorus and has studied Early Music at Longy and Northeastern. Nancy lives in Tamworth, NH and loves to ski, travel the world, and teach Noyes workshops in the New England area.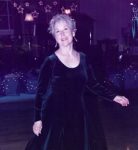 Barbara Luke "ThaLia" discovered the Noyes Junior Camp at Portland, CT in 1972 and began to learn what it means to truly move with the universal rhythms of the earth. She led the Rhythm classes at the Junior Camp for many years, and then became a teacher in training at Shepherd's Nine, the senior camp of the Noyes School of Rhythm. She is now a Master teacher, having taught for more than 30 years. Other dance training included being a member of the Orchesis program at Brigham Young University and then teaching with and for Virginia Tanner in LO. She was the Dance specialist and Artist-in-Residence at Greenwich Academy (CT) for 35 years, especially enjoying leading Maypole and Morris Dances each spring. She's been leading groups of children in exploring their physical and artistic capabilities in classes, parties, programs and plays for the past 60 years, both on the East Coast and in the West.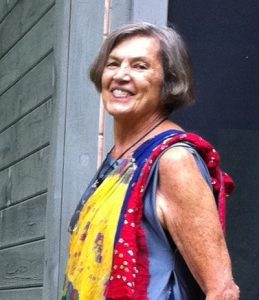 Arline Terrell "Gaia" is a life long student of Noyes Rhythm. Arline began teaching children at the Jr. School, Shepherd's Green, when she served as director. She also taught in the public schools in Canton, CT. She has formed classes wherever she has lived including sacred dance groups. Arline performed most recently, dancing at her Unitarian Church in Texas. Arline is an accomplished poet and also enjoy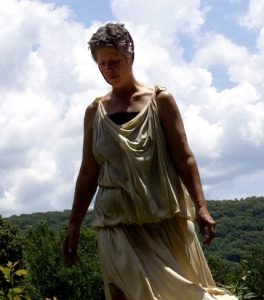 Ruth LeBar "Antigone" began her life in the Noyes work at age four, studying with Gayle Partlow, Catherine Stone, and many others. Noyes Rhythm is the singular thread that weaves her life together. She began her serious study of the Noyes work at age sixteen and is now a Master Teacher of Noyes Rhythm. She is also a gardener, musician and grandmother. She worked in the Waldorf School system for 18 years and has been an ordained minister in the United Church of Christ since 2003. She has also been a farmer, a spot welder, a traveler and is and always will be a lover of life. (currently on leave)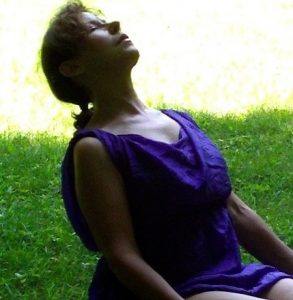 Linda Rapuano studied Noyes Rhythm with the late Valeria Ladd and Catherine Stone (students of Mrs. Noyes) in the late 70's and 80's in the beautiful vaulted ceiling recital and dance space, Cami Hall, across from Carnegie Hall where Mrs. Noyes began her teaching of Rhythm. Linda is an integrative health consultant and has recently joined the Duke University Health System. For ten years prior, she developed mind/body/spirit programs for St. Vincent's Hospital in NYC introducing Healing and the Arts and Integrative Health and Wellness programs. Linda studied yoga for over 15 years under Sri Dharma Mittra in New York City, and is a certified by Nosara Institute as Interdisciplinary Yoga Instructor. For the past 5 years, she has been studying with Dr. Catherine Shainberg at the School of Images in NYC. Linda sits on the Board of the Noyes School of Rhythm Foundation, the Board of Advisors of The School of Images and is a representative to hospitals for the healing art of Colors in Motion. Linda is passionate about Noyes Rhythm and participates annually in the summer rite and rituals of immersions in Rhythm (with a big R!) with other Noyes teachers, master teachers, members, friends and newbies at Shepherd's Nine, the 100 acre-enchanted woods and summer school of the Noyes School of Rhythm in Portland, CT.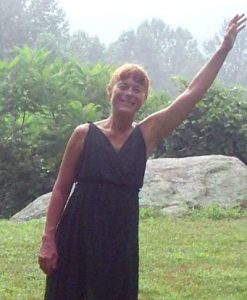 Mara Bennett "Aurora" has danced all her life. She has been a full teacher of Noyes Rhythm for 3 years. She wandered into the Noyes camp 22 years ago. The Noyes relationship of the feet with the floor or earth was the 1st aspect to fascinate her, a kind of magic not seen or experienced in dance training so far. Most summers since she has been regular member of the summer program at camp. She also has a background in Modern, ballet, African, theatre. She teaches international folk dance, especially Rom/Gypsy and Greek. She is a also Paneurhythmy teacher. Most recently she has taken up belly dancing. She lives in Atlanta near her daughter and baby granddaughter.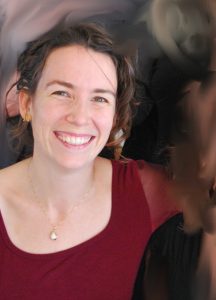 Emily Mott "Pegasus" is a musician and dancer in the Boston area. She teaches music and movement to all ages through her own Songiver Studio and is a Certified Level 1 Music Together family music instructor. Emily has also recently acted as the "Rhythm" (Program) Director for the Noyes School of Rhythm. She has studied Noyes Rhythm for 17 years and is now a certified teacher, teaching classes and workshops throughout the year. Additionally, Emily works with a therapeutic horseback riding program for children with physical and emotional challenges.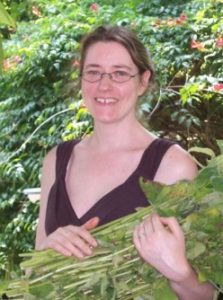 Amy Colon has been studying and teaching Noyes Rhythm for over 20 years. Her love of herbs, the natural world and mythology inform and inspire her teaching. She has studied, performed and taught belly dance for over ten years. Amy has a BFA in painting from Pratt Institute and has taught mask-making, sculpture and creative art at the Shepard's Nine campus.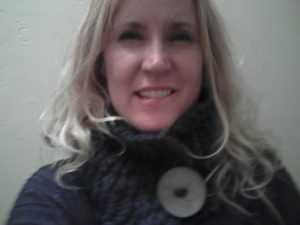 Karen Fenswick first came to Camp at age 10, through the invitation and inspiration of her aunt Thalia. She has returned most of the last 33 summers as a camper, dancer, and eventually Noyes Rhythm teacher of dancers of all ages. Working with Waldorf-inspired methods and other arts-integrated approaches, Karen teaches school in Los Angeles. She lives with her wonderful husband and three goofy cats. She would like to share her gratitude for her teachers, fellow campers, and the land of Shepherd's Nine and Green. They have been, and continue to be, the gift of a lifetime.
Meg Brooker started studying Noyes Rhythm in 2004 and is currently teaching regularly at our summer program. She danced original Isadora Duncan repertory with Lori Belilove & Company, resident performing company of the Isadora Duncan Dance Foundation (NY). Her international performance background includes Austria, Holland, Ukraine, Italy, and Russia. She has served on the faculties of several studios in New York and Texas, including the Isadora Duncan Dance Foundation, the School at Steps on Broadway, Tapestry Dance Academy, and Austin Community College. Meg is also an active dance writer and scholar, authoring the dance blog "Tunics in Texas," contributing to Dance Studio Life magazine, and focusing her MFA thesis Florence Fleming Noyes: Cultivating Community through Rhythmic Dance Practice on Noyes Rhythm history and community. She holds an MFA in Performance as Public Practice from UT Austin and a BA in Theatre Studies from Yale.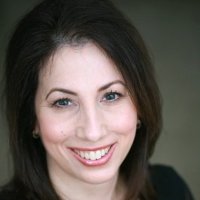 Carol Ribner "Selene" was first introduced to Noyes Rhythm in 1982 when she worked as a camp counselor and assistant to the Rhythm teacher at the Noyes Junior Camp. She has now been involved in Noyes Rhythm for three decades and counting. Carol has danced with the Children's Ballet Theatre, The Parparim Folk Dance Ensemble and has choreographed for the Israel Folk Dance Festival at Lincoln Center. In addition to teaching at Noyes, Carol has worked as the Director of the Dance Department at Bronx House Community Center, Director of the Hashachar National Dance Group, elementary school teacher in the North Shore School District and Principal of the Beit Rabban Day School (where she has been given the nickname of Director of Celebrations because of her penchant for incorporating dance and movement into the curriculum and the fabric of school life.) Carol holds a BA degree from Hunter College, summa cum laude, an MS degree in Elementary and Early Childhood Education from The Bank Street College of Education, and a Professional Diploma/Advanced Certificate in School District Administration from CW Post College.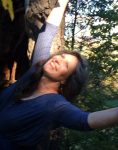 Patricia Carhart Collins "Ambrosia" currently heads the Boston branch of the Noyes School.